Profile

Jeremy Peterson
"I hope there's someone out there who can bring me back to you."
Free Account
Created on 2013-07-30 06:43:51 (#2061328), last updated 2013-07-30 (216 weeks ago)
0 comments received, 544 comments posted
1 Journal Entry, 1 Tag, 0 Memories, 100 Icons

About

Mini Bio
Jeremy Caleb Peterson
As much as Jeremy hates to admit it, he's a bit of a cliché. Born one half of an identical twin set, Jeremy is the polar opposite to his brother,
Tyler
, in everything but looks. Where Tyler was always confident, ambitious, determined to succeed, Jeremy has always sort of lived in his shadow. He was more quiet, willing to sit on the sidelines and watch, and tended to be a bit of a clumsy dork. He has a natural intelligence, always got good grades enjoyed school, had loads of friends, and enjoyed sport. About the only thing he shared with Tyler was musical talent, but neither really pursued it as more than a hobby. Tyler had a bit of an arrogant streak and his determination to win could often leave Jeremy knocked down in races or competitions, but even from a baby, he was used to being the more submissive twin. They were fiercely close even from infants, and Tyler would cry the place down if he was separated from Tyler for any length of time. It was a constant sense of amusement for their family and friends when Tyler seemed to let his independent streak take and do his own thing, but the moment he realised he was without Jeremy, the tears would be on for young and old.
The twins grew up to do their own thing, but even when younger brother,
Kyle
came along a couple of years later, they still kept a very twin-ish relationship. Their folks were never the type to dress them the same because they were clearly different, but they migrated together and had to have a lot of contact to stay content. Jeremy adores having fun, getting dirty, playing games, practical jokes and being an all-round goofball. He has his geeky moments with a love for Star Wars, comics and video games, and when he finishes high school, he hoped to get into something working with kids, contemplating a career in child psychology. Jeremy was always the sort of mix between his two brothers, but where Tyler was excellent in academics and ambition, and Kyle a top sportsman, Jeremy was just an average guy who wore his heart on his sleeve and cared about people. He and Tyler are completely different, but they love each other all the same... as well as manage to frequently exasperate each other. They work if they're not constantly in each other's presence, which was okay once Jeremy travelled overseas for university.
Jeremy somehow managed to ace just about every one of his grades in high school and was offered a scholarship to attend Oxford University in England to study Psychology. He never expected that when he left, it would be the last time he saw his twin for everything he knew and loved. Just two years into college,
Tyler was the victim of an horrendous assault that destroyed his whole world
. Jeremy barely coped but he was stuck in England until the term finished or he would throw away the entire scholarship he worked for. It was only when Jeremy heard that Tyler had hit rock bottom and cheated on his fiancé,
Nathan
that tore the relationship apart that Jeremy couldn't do it anymore. He travelled home to America to try desperately to help his twin, and he became collateral damage in Tyler's self-destructive battle.
- BROTHERS -
Tyler Peterson
Kyle Peterson
- PSL -
dreamlikenewyork
- CREDITS -
profile
"Well I hope there's someone out there who can bring me back to you..."- Wherever You Will Go, The Calling
The ultimate blow beyond all that was when Jeremy came home from England that summer to try to help his brother pick up the pieces after losing Nathan. Tyler was an emotional and psychological wreck, living on alcohol and drugs to shut off everything in his head. It was just days after his mental break where he took the life of his rapist that Jeremy tracked him down to a rave party at an old warehouse in the city, terrified of what he would find. Tyler had slipped further and further away from him to the point they weren't even in contact now, and Jeremy was crushed. It was never going to end well. Tyler was completely trashed only got more high and on more shit, and some how decided that drag racing out in the street with one of the dealers was a good idea.
Jeremy tried to stop him, desperately not wanting his twin to get any more hurt than he already was, but in a horrible twist of fate, it was Jeremy who ended up hurt. Right in the midst of a screaming argument with Tyler trying to stop him getting into the car, Tyler, with his increased strength from the drugs, shoved Jeremy out of his face and pushed him onto the right into the path of an incoming car. Jeremy got hit and was nearly killed on impact, but it was the fast thinking of witnesses and paramedics that kept him alive to get him to hospital. He suffered massive internal injuries, a near fatal head-wound and was subjected to three major surgeries to heal the damage. It has now been over a year and Jeremy is still in a coma at Mount Sinai Hospital.
Whilst Jeremy remained in a coma, his twin's life crashed and burned. Tyler was diagnosed as HIV Positive from the rape, and was convicted of murder where he spent 6 months in prison for taking his attackers life in a psychological break until he was released on an insanity appeal. On the anniversary of his break up with Nathan, he tried to take his own life and end all the pain and heartbreak, with no family around to save him. No one realised Tyler's post-traumatic mental state deteriorated to not only severe substance abuse and addiction, but also psychosis with dissociative amnesia that has caused him to entirely block out any memory of the fact he has a twin brother, likely triggered by the shock of watching Jeremy nearly killed in front of his eyes.
Jeremy is an Original Character created for PSL/musebox,

dreamlikenewyork.
DISCLAIMER
This is an roleplay and muse journal for character
Jeremy Peterson
, an original character written for

dreamlikenewyork
PSL/musebox. All rights and written entries by

bringmebacktoyou
is original work and owned by his creator. Journal and character is for roleplay and enjoyment purposes only. Jeremy is portrayed by actor, Grant Gustin and is in no way affiliated to Grant Gustin.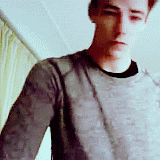 People
[View Entries]

Communities
[View entries]

Member Of (4):

Subscriptions (4):

Administrator Of (0)

Feeds
[View Entries]

Subscriptions (0)

Linking
To link to this user, copy this code:
On Dreamwidth:
Elsewhere: